Early Childhood Education
Kids Can is proud to offer comprehensive early childhood education and care for children ages 18-months to 5-years-old.  We have classrooms split into three age groups and offer care Monday through Friday from 6:00 AM to 6:00 PM.   Click ahead for more information on Toddler care and Preschool/Pre-K programs.  
Kids Can is a state-licensed childcare, Child Care Subsidy (Title XX) payments accepted.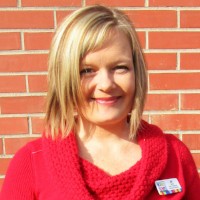 Jill Garrett, Early Childhood Site Director
Jill started in January of 2017 as the Early Childhood Education Director with Kids Can. Jill has a Master's Degree in Education with an emphasis in early childhood. Jill has served as an early childhood administrator and teacher for over 15 years. She enjoys working in the early childhood field because the first few years of life are extremely important to the continued success of children academically, social and emotionally. Jill loves spending time with her husband and three children along with their dog especially when they can get outdoors to camp and walk around their neighborhood.